As any wine-lover knows, there's something great about grapes. But beyond enjoying a glass of vino, there are other benefits that can't be overlooked — especially when it comes to skin care.
Upcycling
After grapes have been harvested and used in the wine-making process, the grape seeds are used to produce oil. This reuse of a byproduct is part of the larger trend of upcycling — reducing waste with a focus on sustainability. The all-natural grape seed oil that's extracted is potent, and, when applied to skin care products, contains tremendous benefits. Good for the planet and good for the skin.
It should also be noted that this grape seed oil is different than what's used for cooking. That oil is subjected to a chemical process, and those chemicals and impurities remain after its bottled. Cosmetic-grade grape seed oil uses seed that are pressed by machine — the extracted oil is 100% pure and natural. It takes about 300 pounds of seeds to get one ounce of oil.
What are OPCs and why are they important?
Grape seed oil is rich in oligomeric proanthocyanidin complexes (OPCs). These are antioxidants that protect the skin by counteracting free radicals — the particles that seek to damage our skin and lead to the visibility of fine lines, wrinkles, and dark spots. These antioxidants have been found to be 50 times more powerful than Vitamin E and 20 times more powerful than Vitamin C. Beyond just protecting from environmental damage, the antioxidant proanthocyanidin can also help to even skin's tone.
Multi-tasking
As if providing antioxidant protection and even skin tone weren't enough, grape seed oil goes even further. Because it's naturally noncomedogenic, it won't clog pores, and can be used by all skin types (yes, even oily). Its anti-inflammatory properties help to reduce redness, and its fatty acids work to nourish and moisturize skin.
When applied to the skin, grape seed oil feels lightweight and non-greasy, and it absorbs quickly to leave skin feeling silky and smooth.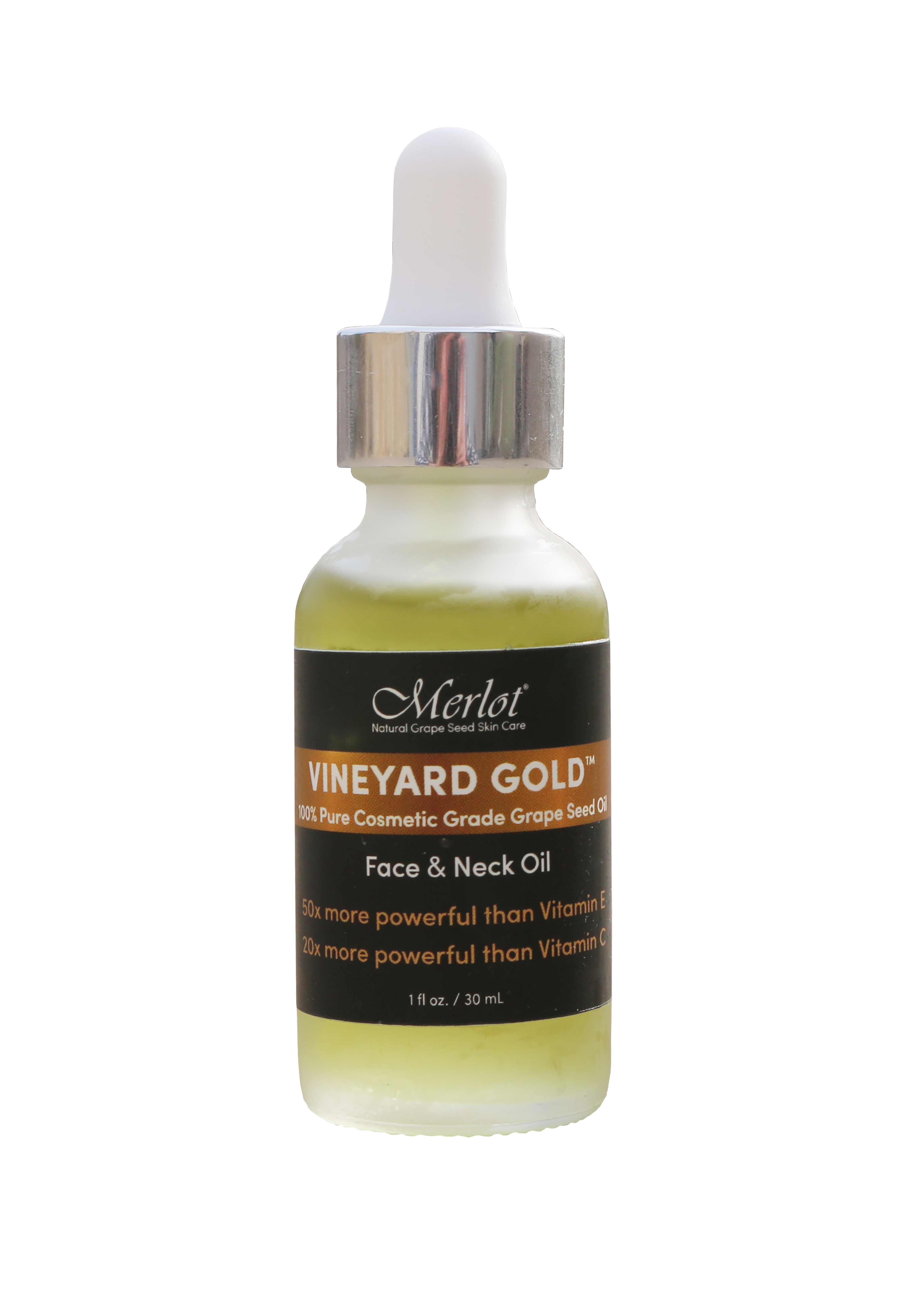 Merlot Skin Care's new Vineyard Gold Face & Neck Oil is 100% pure cosmetic grade grape seed oil. A clean beauty product, it's free of sulfates, silicone, and parabens. Plus, it's vegan and gluten-free. Just a few drops go a long way toward brightening and nourishing skin.
With grape seed oil's numerous benefits, it's the perfect product to put into your everyday skin care routine.